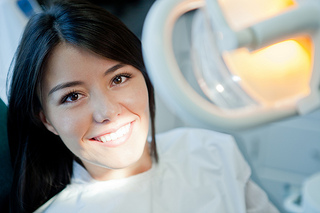 For most people, the word "surgery" immediately conjures a hospital setting where you're put under for a procedure that involves a lengthy recovery. While some dental problems can be that complex, you might be surprised to learn what actually qualifies as "oral surgery."
Oral surgeons receive additional training to learn about the diagnosis and treatment of a number of different dental problems that result from injury, disease, and defects. You may have heard the term "maxillofacial surgeon," which simply refers to a specialist in the range of different tissues that may require repair during oral surgery.
The average surgical procedure is actually performed in your dentists' office, not a hospital. Tooth extraction, for example, is so common you probably wouldn't think of categorizing as surgery. However, the removal of impacted, rotted, or damaged teeth, and even assisting in the removal of stubborn baby teeth, all fall into the oral surgery category.
Other common procedures include:
Realignment of the jaw to form a proper bite
Repairing damage to facial bones following an accident
Removal of a cyst or growth in the mouth or jaw
Replacing permanent teeth with implants
Does your condition require a surgical procedure?
In the majority of cases, you will be referred to an oral surgeon after a problem has been discovered and determined to go beyond the scope of your dentist's practice.
When discussing whether or not you will require oral surgery, a number of factors are likely to be considered. One of the most pressing is how your daily life is, or will be, affected should you choose to forgo the procedure. Many dental problems are accompanied by severe pain and can have a negative effect on your ability to eat and even speak properly. Non-cosmetic issues like these play a large role in determining the best course of action.
Before you flee in the opposite direction, take the time to speak with Dr. Matthew Hilmi or any of us at Mid-Hudson Oral and Maxillofacial Practice about the procedure. While you may need to make special arrangements to travel to and from the office, and take a day or two for recovery, the results make it all worth it. Avoiding a necessary oral surgery will likely cost you more money and pain in the long run.